Discussion Starter
·
#1
·
My Brother Mike and I set up a day to spend together on the water a couple of weeks ago. We can never seem to line up our days on the water together... I'm in a tourney or he's working ... so come hell or high water we were going this saturday....Well it was high water Mike and I had a late start, some where around 6:00 am when we left my place. It was mild and cloudy... but dry. By the time we got to Arnpoir( 50 Miles from home) the skys turned black.... like middle of the night black. 5 minutes later the rain came... not just rain but RAIN... windshild wipers on fulll could not clear the windshield. We arrived at Clay Banks Launch and sat in the truck hoping it would slow down. 1/2 hour later it almost stopped , so we launched the Ranger. WE moved out to the main lake , this was Mikes first ride in my new boat...I opened it up got up to about 60 when it stared to pour again.... this time it didn't stop for the rest of the day. We moved to a deep drop off shore line that Mike and I have had succsess on with Smallies, we picked up a few dinks... nothing picture worthy. We move to the main basin, straight south of the damn. It was now just a steady down pour.Mike hooked up a Baby Bass Senko and fired out into what looked like about 6inchs of water.... as the senko hit there was a big swirl and Mikes rod doubled over.... This was a good fish... and it was putting up on hell of a fight on Mikes light gear . Finally after a few attempts at netting it, it made it into the live well a beauty Smallie, It was raining to hard to click off a picture then. We picked up a couple of nice Smallies that also went into the live well for later photos.
We swithched gears and headed into a long weedy bay to look for largies... it didn't take long, I hooked into a nice Largie on a Craw colored Senko . when it it the net. it also went into the well.
By this time my rain suit had enough, the bilge pump ran seady all day and the floor drains had a hard time to keep up with the rain. We took a slow drive to a small bay for some quick pictures. Mike pulled out the camera ,just as the rain slowed down.. so these were the only photos of the fish, and headed home.
Mike with his 2 best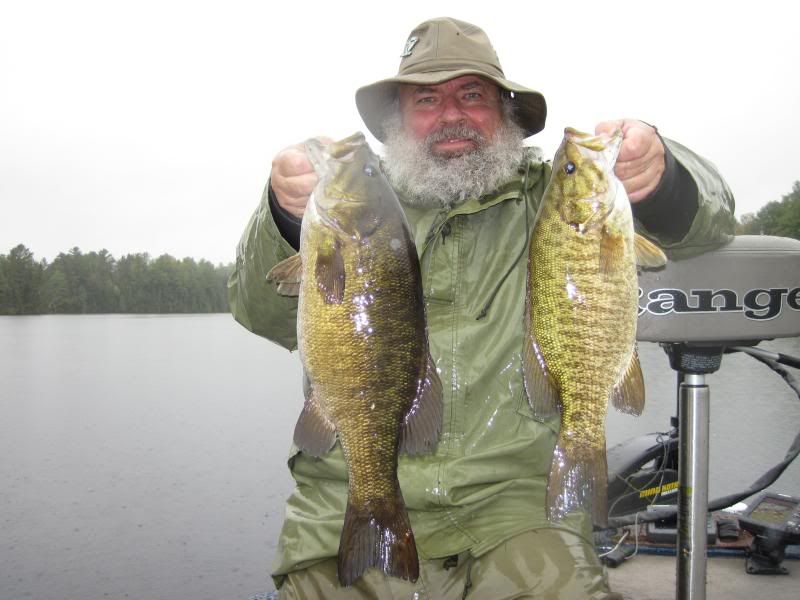 My 2 best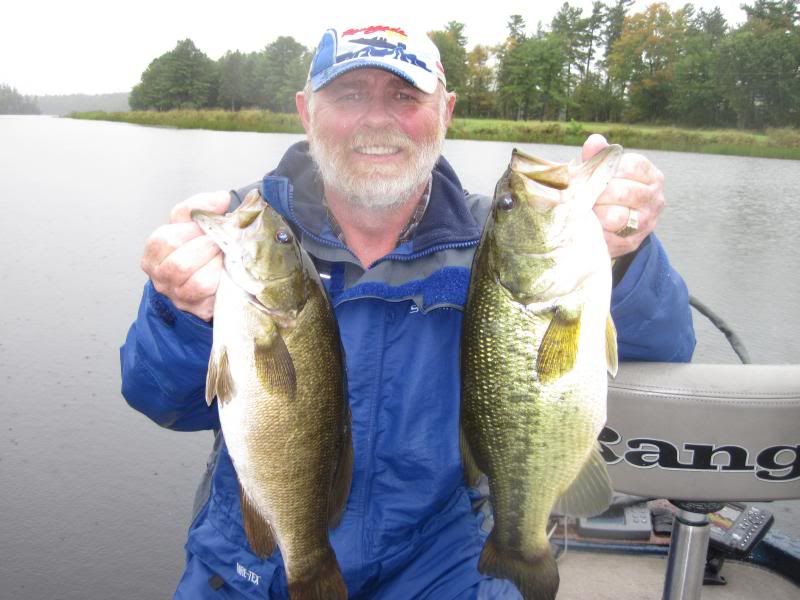 This is a great time of year to be on the water... the Smallies are schooling up and they have the feed bag on... I'm already looknig forward to getting out on the water with my brother soon