·
Let the fish be with you
Discussion Starter
·
#1
·
This trip I had the wife(Nannook), the Kid(ST.) Lawrence & my friends Mark , Alan & spouses sharing the trip with us. Nice to have friends up there, so I can dump the wife & kid with them, & go fishing. As it turned out I primarily fished by myself or with Mark &/or Alan in the early AM, & took the family out in the afternoon.(& also fished).
We drove up in a pretty good rain on Friday 6/28. The rain Gods listened to me & we never had any other rain all week. Saturday the 29th turned out to be a cool, calm, cloudy day. Nannook does not go on the boat unless the sun is shining & the air temp has to be at least 73.37645`f+/- .00001. Hence since it only hit 70`f that day I was free `till a 1:00pm luncheon. Then 2 hours wasted "touring".(Alex Bay). Anyway the morning fishing was super, sort of. I had my Pike Jig on but only GIANT SMALLMOUTH were eating it. First cast of the day netted a 6lb 2 oz Smallmouth. Minus 1 allready. After several 3-4 lbers, I got a 5 lb 8 oz Smallmouth. Talked to dick Garlock that night & he caught 21 1/2 lbs of smallmouth & finished 8th in the Lions club tournament. The guys that won it with near 25lbs were the same rascals that won the Renegade event the week before.
Dick had another tournament on Sunday. I told him to come down my way. He didn`t listen & only caught 20lbs on sunday & finished way down the list. The winners on sunaday had 27+ lbs. I had another 6 & coupla 5`s down my way. However, nanook & kid were with me Sunday, so I got pix. I would only take pix of Pike & largemouth, so here is a 34" Pike that went 9 lbs.
Next day Monday was a rough Nor`Easter with winds at about 20 mph. I went fishing with Mark & the kid while the wife went out with Lucy(Marks Wife) & Betty,(Alans wife). We only caught about 10 Largemouth but were happy to even get out in that wind. Of course Mark was doing about 90 mph in his supercharged Ranger. The kid loved it. I thought I would be in the Hospital if I lived. Then Dinner at Marks that night.
Tuesday morning started out foggy but calm. I wanted BIG PIKE. First fish 5 lbs. Second fish 4 lbs. Third fish 10lbs 6 oz.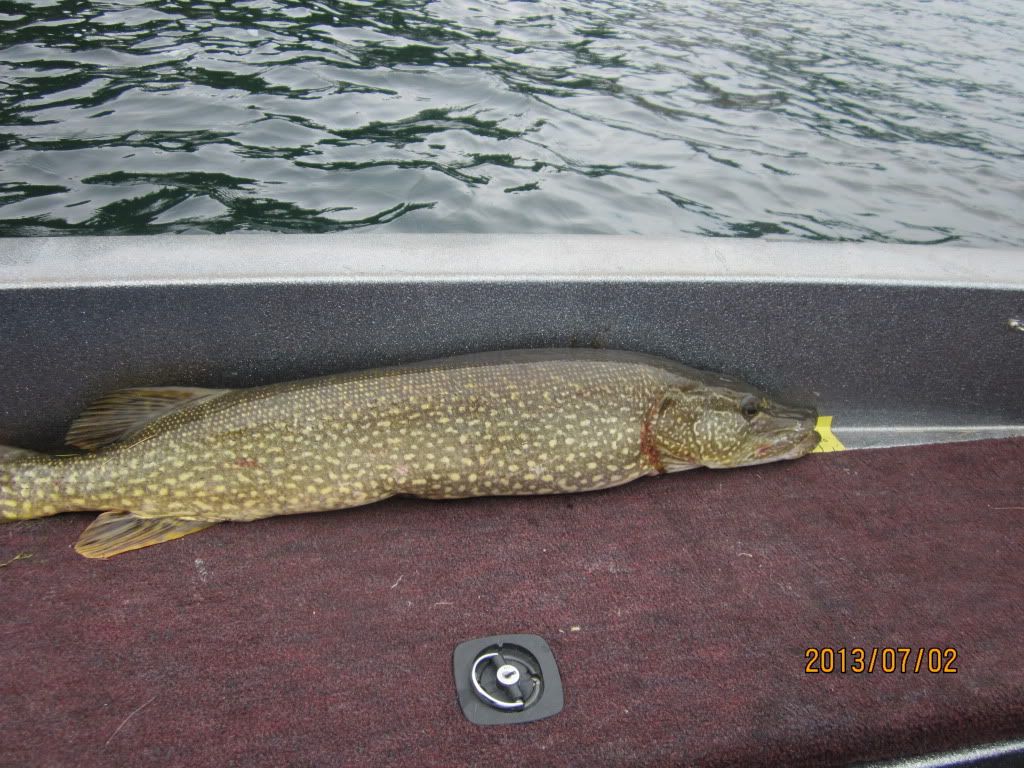 I found the Pike. They were in 20 ft of water near the main Channel Break. Water Temp was 62.5`f. Where I was catching the Smallmouth it was around 65`f. In the Bays it was well over 70`f. The onslaught of Big Pike continued. Next day I caught an 11lb. 8oz Pike. along with a bunch of her relatives. This is what I was using. 1 oz Jig with home made 10" Chartruese Curlytail worm. Big Baits catch big fish.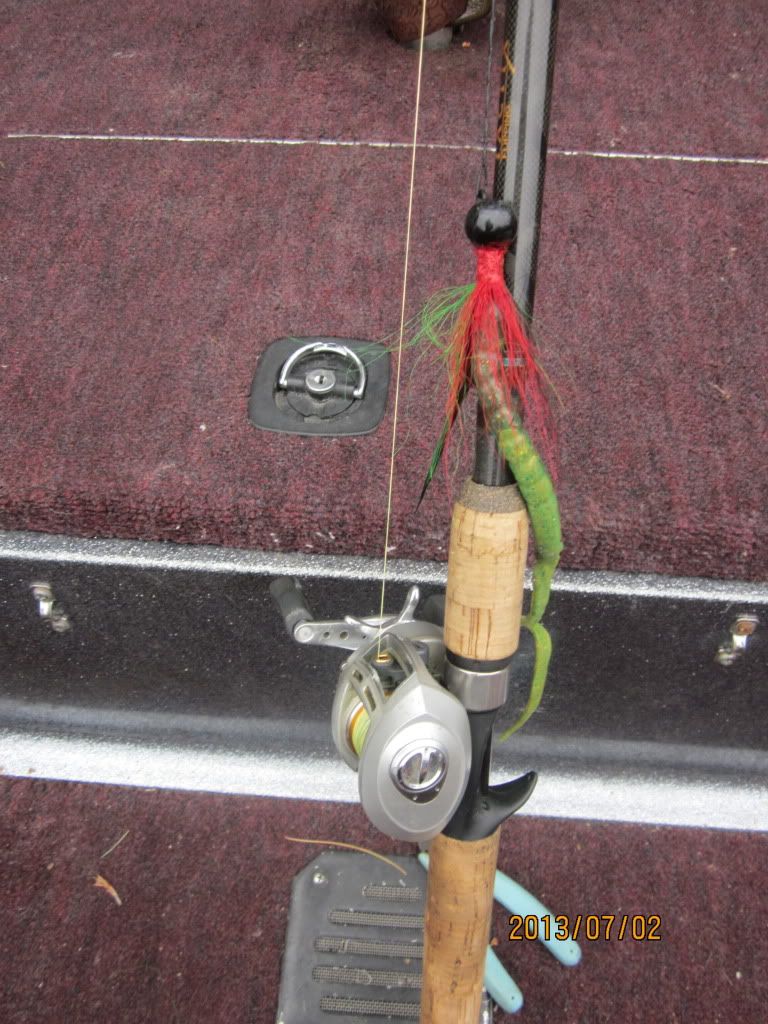 11 lbs 8 oz PIKE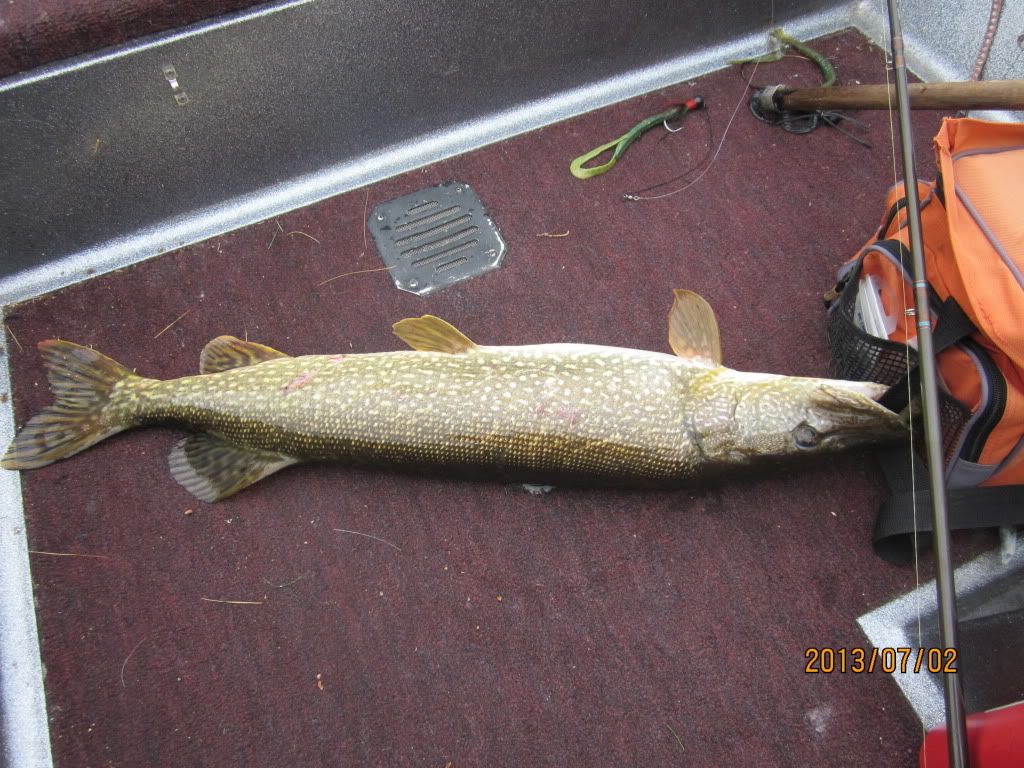 The 10 & 11 were extremely fat & deep in the belly. I thought they looked pre-spawn, but were probably really feeding well post spawn. Well, now I was getting tired of the Pike, The Smallmouth were too easy, & BORING, so I decided to look for Pre Spawn River largemouth. That also turned out nicely as i got a 5 lber & two 4 1/2`s in my "secret" area.:laugh: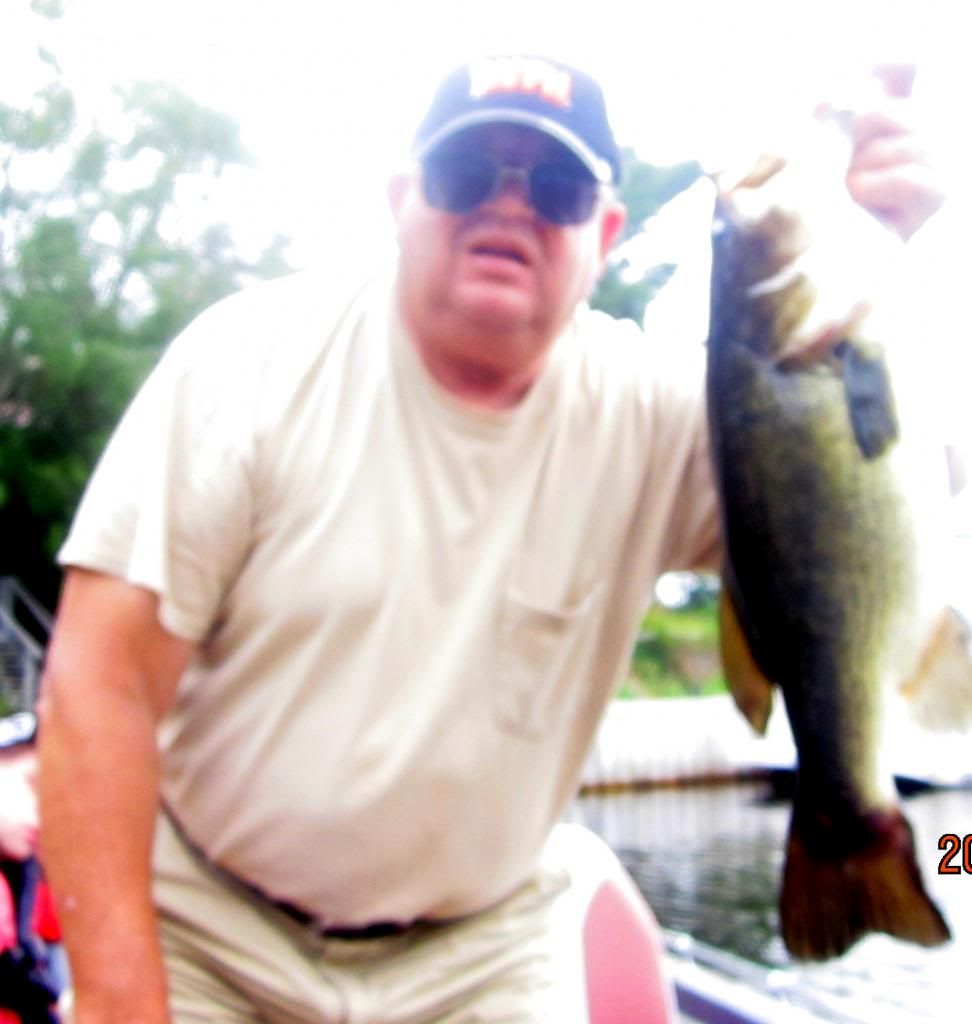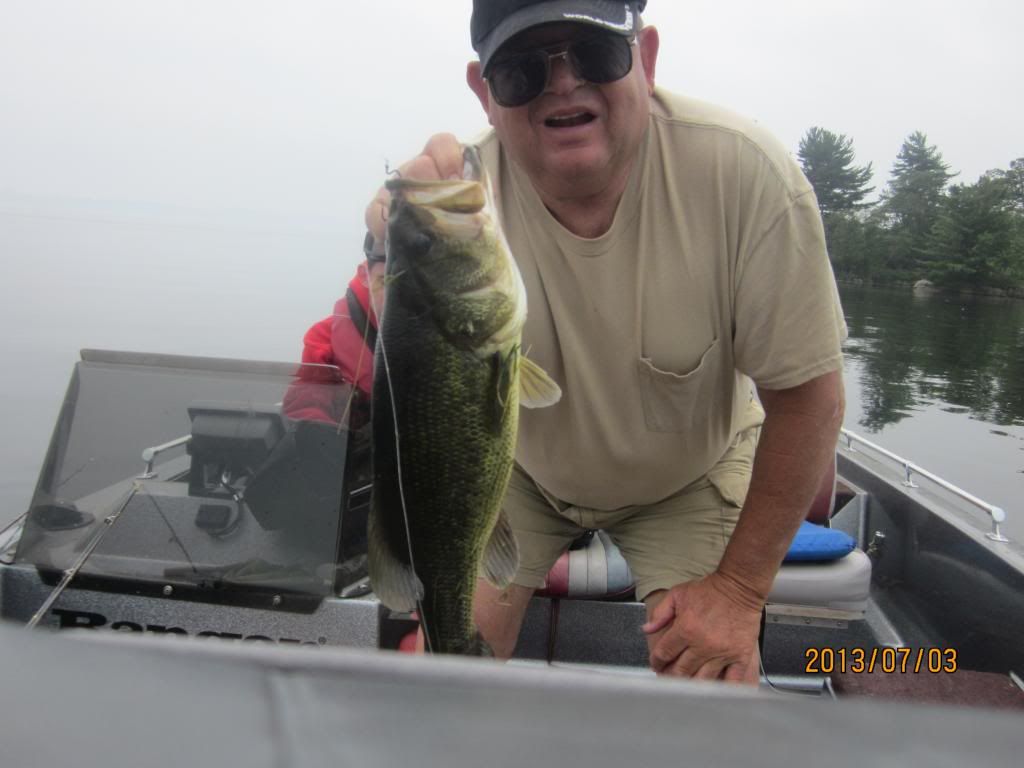 Sorry about the lousy photos. I was mostly by myself, & am not a master of self photography.
One last note. On the day I drove up(6/28) Dick was fishing with Rick Clunn. Rick said that was the only time in his entire career that he pre-fished with anybody. Tells you a lot of what people think of Dick. Next day Ricky was back in Texas while Dick stored his boat. The Elite is gonna be out of Waddington in August. Cool!! I was gonna ask Ricky if he thought tournament Fishermen were better than Recreational fishermen, but didn`t want to embarras the tourist.:laugh:
Anyway, real fun trip with family & friends. Thanx for reading this long winded report.