Discussion Starter
·
#1
·
Well my series is over.... its been a kind a up and down year for me, First time fishing with my Partner Chris Gates. We started the year off slow, finishing 24th on Mississippi, 21st on White lake. Leavinig us sitting in 24th for the team of the year standings. Too say the least it wasen't going well Our next event was the Ottawa River, I hate the Ottawa but we did surpriseing well finish wise, we finished 11th that moved us up the standings moved from 24th to 23rd. The next event was the Rideau river at Kilmarnock, this was the first time I have ever been on this part of the Rideau River, not a nice place to fish,well it is if you like solid banks of weeds. We finished 12th there again moving us up the standings from 23rd to 16th for team of the year.Our next event was on the Big Rideau Lake. This was our best fish to date we finally caught fish
... we weighed in 15.98 to give us 3rd and we cashed our first cheque, moving us from 16th to 12th for team of the yaer. We were feeling a lot better now as we were sitting mid pack. The next Event was at Muskrat Lake... this was the event where after 10 years the Legend was parked for good and I did my first Tourney in my own Ranger(mine and the banks) I never water tested the boat, I picked up the boat friday night and the next morning I was on the way to Muskrat so this was going to be intresting.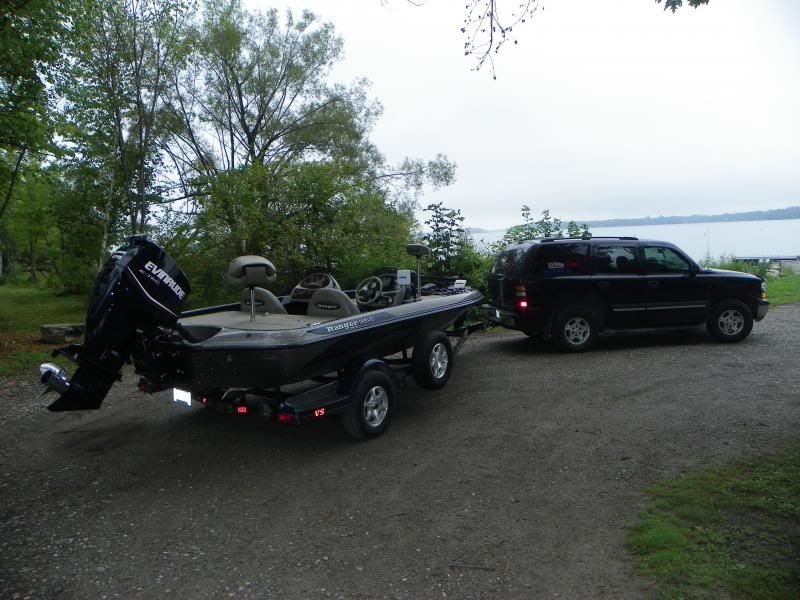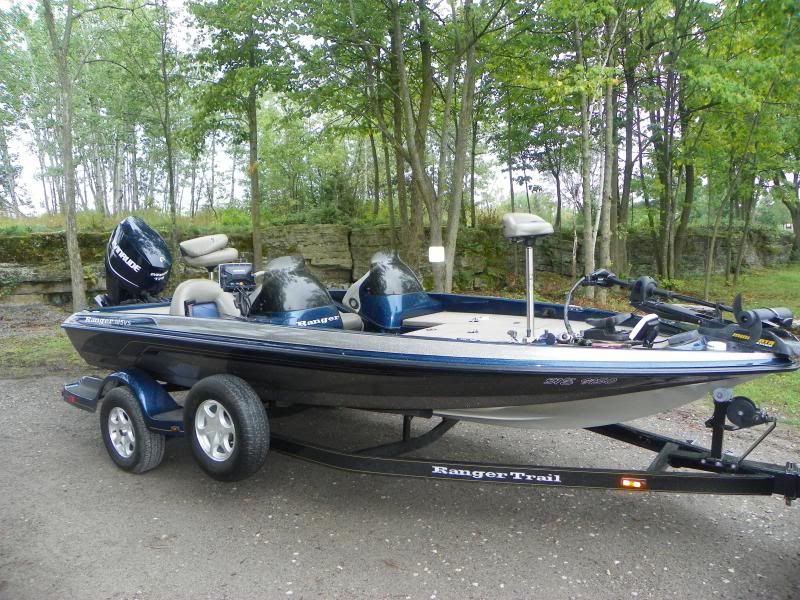 Chris has had good luck on this Lake and he was sure we would do alright. Well we finished 3rd again with a weight of 18.17 and we cashed our Second Cheque. That moved us from from 12th to 7th in the team of the year.this was our final event before the Classic, because there was 6 Qualifiers they took our best 5(they gave everyone a Muligan) so the took White Lake of the books and put us in 5th place over all for the Team of The year. We were thrilled with that finish.
CLASSIC DAY ONE.
Chris and I were pumped for this event, after all this is the lake that realy moved us up the standings and gave us out first cheque. Chris was at my door with coffees in hand at 4:00 am. Ariving at the launch in the dark, we launched right away. By the time the others arrived and launched we were all set and ready to go. I should mention is was darn cold
, I wish I had brought gloves and a toque .... anyway we blasted of in order of the team of The year standing...one boat leavs 15 min early and finishes 15 min early so they can set up the scales and marshell the returning boats,so that moved us to 4th. We hit our first spot.... nothing nada same with our second spot and our 3rd spot . So we improvised.... hitting some new spots. We put two Largies in the well one at 2.14 and the other 2.10 , from there we moved to look alike spots .That worked for us, we had our limit in the box in no time. We started to cull arond 11:00am, we had 3 two pounders to cull . We moved to a Shoal that Chris took a 3 pounder off on the Qualifier... our first cast to this spot... doubles both fish twins 3.5 Largies that culled 2. We were all smiles now. From there we culled by onces(all clones) using the Balance beam. We had a good bag but needed a Kicker.This spot dried up so we move to 3 other shoals we caught nothing to put in the Livewell. We took a run to Beverage bay, caught nothing... we moved back down the lake and tucked into a bay to get out of the wind. Chris fired out a Senko and caught a 4 pounder... not the kicker we were looking for but it culled a 2.15 pound Smallie. We weighted in 16.70 but us in Second after day one... we were pumped.
two of our 5
boats heading in to weigh in
CLASSIC DAY TWO
We were up and gone from my place around 4:00 am again... arrived in the dark ...launched and had every thing ready to go about 1 hour early. We had the same blast off order as day one. We headed down the Lake towards Portland ...worked a few shoals, we put a few dink fish in the box... all just measuring We moved to a few spots hoping to upgrade ... but it never happend ...we went for 2 hours not even getting a bite, we threw cranks , Spinner baits, senkos, we dragged tubes everything, we fish Shallow we fished deep, we fished Flats, rock,shoals.. to no availe.. So at the weigh in , which was ours to win... we weighed in 9.63 pounds... and finished 8th over all.
Over all it was a good year and I will more than likly be back next year .
phil