Well, got back yesterday after 10 days of extraordinary fishing, company and generosity. I am a very lucky chap.
Flew into Syracuse last Thursday week and was met at the airport by Jims Snr & Jr. Just time to head up to Gander to spend a little money and get licenses, then back to Jim's to meet up with Dale (Mrs Snr) and have a fantastic home cooked meal, some beers and plenty of talking.
Friday morning we're up before dawn and head off to Onieda (after waking a slumbering Jr :laugh
. We arrived at the ramp and loaded all out stuff and food into the boat. Snr says "where are my tackle boxes? Actually, where are my rods?" D'oh. In all the excitememnt of the morning we'd managed to forget all his gear while making sure we'd got all the food and drink! Poor Snr headed back home to pick up his gear while Jnr and I pottered about near the ramp. The fishing was tougher than normal due to the weather, but that is such a great lake to be on any time. Jr had a bass blow up first cast and nailed it second cast, which was fantastic! We fished around without any other action until Snr returned, then headed off out.
We picked up odd fish through the day, but it was a bit of a struggle to find any definite pattern.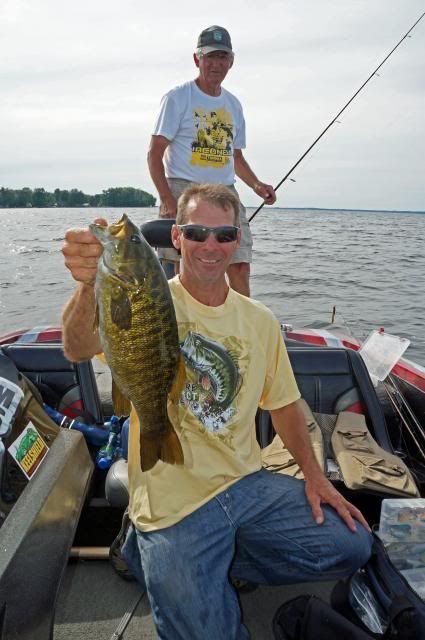 Odd fish, mainly smallies came throughout the day.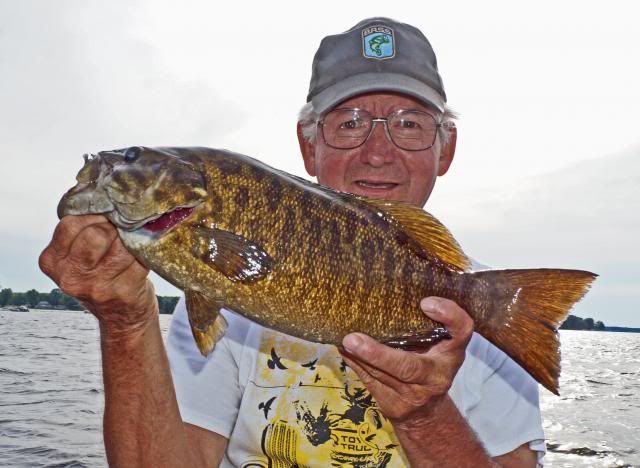 We all caught them.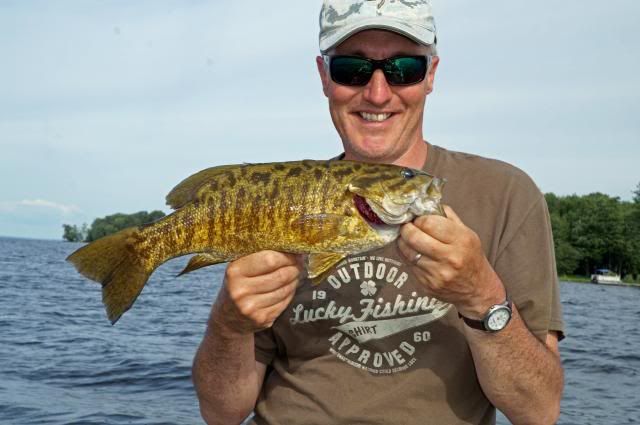 As the evening started to draw near the wind got up and all of a sudden we found a good stretch with plenty of fish which were happy to annihilate crankbaits over the weeds. Everyone got plenty of action and then the inevitable happened...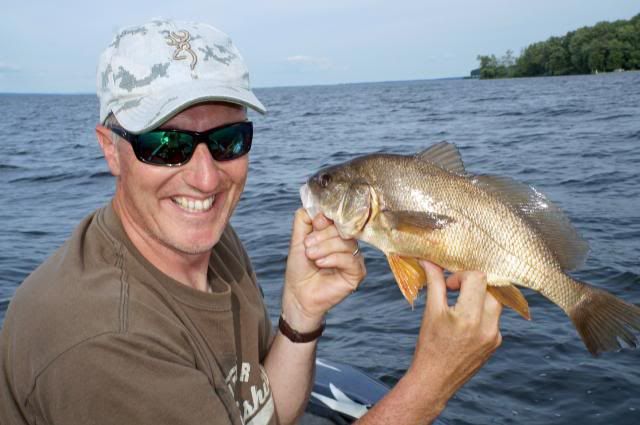 Absolutely smoked my little crankbait! I expect it's turtle food now as there was only the lip of the crankbait showing out of his mouth, and with so little room to work with around the crankbait, it was a little tricky. There was blood, but hopefully he made it.
Also, while catching bass and other various game little fish I caught this yellow perch. Yellow in name only. It looked like it had been dipped in an emerald green dipping dye, the pictures don't really do it justice, but it was extraordinary!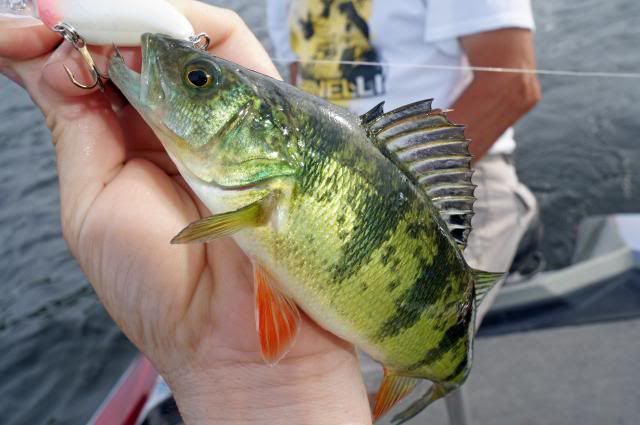 What a great fun day! Jim Jr lent me a couple of Rapsody rods while I was fishing with them. A flipping stick for the frogs and a medium actioned baitcaster. The former didn't get much use, as the frog bite wasn't really happening for us, but the medium action rod was used a huge amount. What a great rod! I'm usually a bit of a tart about rods and nearly always custom make my own rods from St Croix or occasionally MHX blanks. These Rapsody rods are the real deal though. The medium actioned rod would happily cast anything with it's really responsive tip but had the power and recovery speed to snap weeds off easily and put the hurt onto irate smallmouths. Highly recommended!
We went back to Snr's house for a delicious dinner with beer and soon afterwards a deep coma!
Sunday saw us fishing a double shot team tournament on Cayuga Lake. John Francho stayed at Jr's overnight and Snr and I went over and met up with them at silly o'clock in the morning. I was fishing with John, which was a lovely surprise, as was the whole tournament thing. I rode up with John and we had some time to chew the fat. He'd had a busy week after going to the Wild Bill meet and fishing various other places all over the state all week. We headed off at the launch to the opposite side of the lake and started working the deep weeds. There were fish topping all over the place as well as suspending according to the sonar, but we struggled to make anything of them. I caught a just about keeper, which went in the well, then later a smaller one, just too small to count and later still, just before the first weigh in, had a small smallie on which threw the hooks at the boat, so we never did get our three fish limit in the morning. Interestingly there were Gar, presumably spawning, in the bay we fished. They were topping all over the place. Great to see. At the weigh in it was obvious that some people had found some fish, though everyone was finding it a bit tough.
By the afternoon leg the wind had got up to an annoying level.The two bullets were having a hard time getting about quickly and Snr didn't look like he was having the best time of his life whenever I saw him. John's boat got through the waves a bit better, being a couple of foot longer, but it was tough conditions to control the boat in, driving or fishing.
We got to our spot for the afternoon and John had a nice smallie almost immediately. We thought " here we go, at last they've decided to play!" unfortunately though, we couldn't buy a bite after that. We ran over to the other side of the lake, hoping for some calmer water, but amazingly the wind and waves were the same if not worse on the other side, defying any logic or reason! We battled around throwing spinnerbaits in an attempt to provoke some fish into hitting a bait we could actually fish and feel a strike should it come. Eventually we drifted down towards the launch ramp and just past it, where the water was a little more sheltered. Continuing with the spinnerbaits all of a sudden John's bait got blasted by a real quality fish. Around 4lb I harboured thoughts of the lunker prize, and we both kicked up the concentration level a bit for the last hour, hoping against hope for a third fish, to give us our limit and a possibility of a prize.
As it turned out, there were heavier fish and plenty of limit bags, so we didn't fare as well as I'd hoped, but it was a great fun day though I felt a little sorry for John as he was tired from a week fishing and then got battered by the wind all day and my end of the boat didn't contribute what it might have as I was suffering slightly with jet lag. Great to see him and spend the day with him again though, and that bullet is a beaut!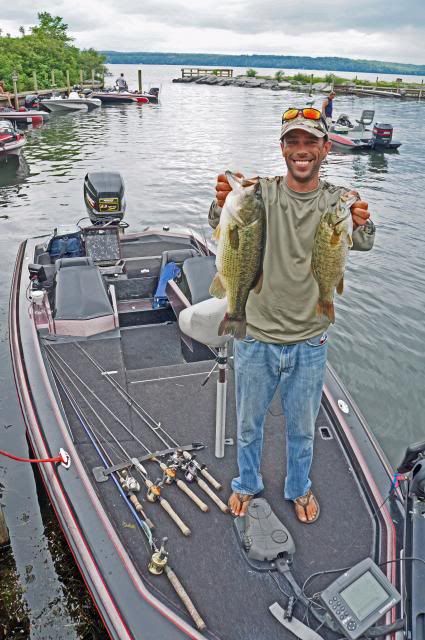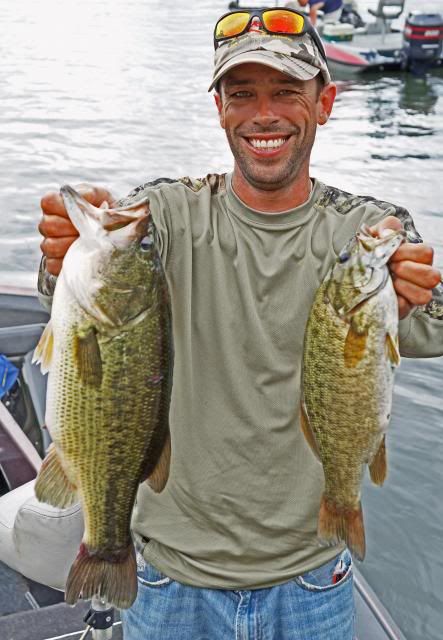 Saturday evening we went over to Jr's and had a great BBQ with family and friends, then went down to the bottom of the road to see the local fire service's "4th July" fireworks display. Very very impressive! We got covered in firework detritus as it was all going on immediately above us. What a show! Sunday morning I got packed up and went for a walk along the canal with Snr before the next leg of my adventure.
I was deeply touched by the absolute generosity of the whole extended Husnay family. The effort they went to to make my trip was absolutely outstanding. Such lovely people. Jim Snr and Dale were fabulous hosts and Jim Jr and family were so kind to me the whole time. A million thanks guys, and of course a million thanks to John as well for a great day on the water.
The story continues below, as I've run out of picture space!