·
Let the fish be with you
Discussion Starter
·
#1
·
Nanook & I had a very eventful trip to the St.Lawrence River this past week. Called ahead to the Blind Bay Marina to see that my boat was in the water & gassed up. A-OK says Tim the mechanic. After picking up provisions at the Super Market, we landed at our place at about 3:00pm. Unload the car, put away the food, & I`m at the Marina at close to 4:00p.m. Tim says we have a problem. We have no spark on the ignition. Fortunately I have a spare power pack, but my suspicion is the kill switch. It`s been replaced twice & I hate the damn thing. After two hours of fotzing around while Tim is working on other emergencies at the same time, it turns out to be the dreaded kill switch. No problem, the kill switch joins the garbage pail. Everything is now a go.
The wasted hours drains my enthusiasm to set up the boat that night.
So early Saturday morning I load the boat & am out by 10:00a.m. The largemouth are biting & Big Smallmouth are following. A few Pike mixed in, & I`m a happy camper. Sunday turns out to be an overcast day with some light rain. Nice sized Pike are killing my Jigs. Biggest were two 6+`s & a 7. Nothing huge but real nice fish. As I was to learn later nobody has been doing well with the Summer Pike. What I found out is that they were really buried in heavy weeds. On the rainy or overcast days they were roaming on the outer weed edge at about 12 ft to some more sparse coontail at 16 ft. On the Sunny days, you had to flip the weeds. Fortunately or unfortunately the Largemouth were in the heavy weeds close to the inside edge. Not using a steel leader flipping for Largemouth, I lost some Marty Jigs to Pike, if my casts weren`t precise towards the inner weed edge. I felt like a Baseball pitcher throwing the wrong pitch & the Pike nailing it for a home run. I had a quick look at some of those Pike & they were goodies. OK it`s now monday & the winds from the SW at about 30 mph. I play the hero & take Nanook touring. Get out late in the day when the wind was dying down & get some more Pike, plus a 5lb 2 oz Largemouth Pike fishing. That`s how close the Pike were to the largemouth. Nanook the Camerawoman, cook. & housekeeper was not aboard so no pix of that nice fish.
Tuesday & Wedsnesday were beautiful sunny light wind days. I decided to see how I would do against the "ELITES" Largemouth fishing. Got out the Heavy Jigs & flipped a a bunch of 3-5 lb Largemouth. I guess I would have had about 18 lbs each day. Lots of fish like these girls. I was happy.
As to the Smallmouth I had many 3-5 lbers follwing swimbaits right to the boat. I found out from Dick Garlock that I should have been throwing the "secret" Bob Spinnerbait. Dick & Bob won a tournament on Sunday just by burning spinnerbaits over 15 ft of clear rocky water. Dick told me he only got follows on the swimbaits & he reluctantly went to the spinners after he saw Bob killing them on that. I think they had 19 1/2 lbs of Smallmouth. 2nd place was 18 lbs.
My next door neighbor nailed a 10 lb 2 oz Walleye in 50 ft of water. My good friend Gary Woughter was catching Good sized Smallmouth (3 to 4 lbers) in 22-25 ft of water in my secret smallmouth hole. I never fish there anymore for fear of running into those Pirana like smallmouth.
To be a nice guy I take Nanook down to Brockville(by boat) for some lunch & shopping on thursday. Check in with Customs , & get the dockmaster to assign me a boat slip. ENGINE won`t start. The wife is freaking out. We are stranded in Canada. Take out the trusty hamer & whack the starter motor a few times. Starts right up. She`s too nervous to go into town thinking the motor will die again, so I head back to the Marina. Turns out to be a dry engaging rod to the fly wheel. Tim greases & oils `er up & we are off agin. Beautiful day & end of trip, as I`m grilling Hamburgers on the BBQ.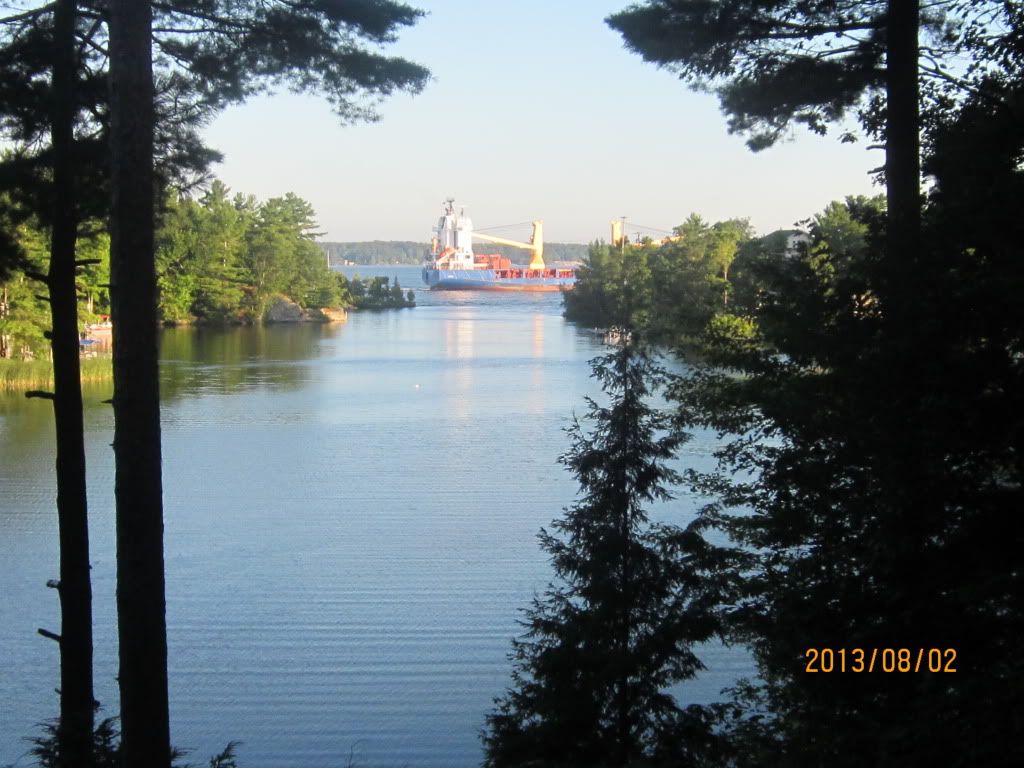 Be back for more on Labor Day weekend. By the way, temps in the low to mid 70`s all week. I think I`m forgetting how to row.:laugh: Thanx for reading Marty